ETA Automatic Assembly Line Machine Of Led Bulb
Products introduction:
Automatic assembly production line, realize the stepper technology, servo technology, machine vision, image processing, laser detection, high speed data link communication, intelligent control algorithm technology integration convergence. The technique can smooth transplanted to other industries the production assembly process control. The series of automatic assembly production, LED bulb products assembly process automation, including automatic feeding, automatic assembly, automatic detection, product archives automatic record of, efforts to solve the LED lighting business in product assembly of bottleneck. The action orientation of the automatic assembly line repeatable accuracy of 0.01mm, high speed data communication link up to 100MB/S, 10ns basic instructions, production capacity can reach 1500PCS/H. The automatic assembly line of one line of LED assembly labor instead of hundreds of millions of dollars in staff, save labor cost.
Features:
Our company develops the LED assembly line, the realization of LED lighting products parts automatic feeding, automatic positioning, automatic whole line, automatic welding, automatic locking , automatic detection, automatic printing, defective product automatic removing and other functions.
Technical advantages are as follows:
1, the introduction of intelligent image recognition technology, instead of manual inspection or mechanical positioning: Instead of manual inspection can avoid the misuse of the appearance of defective materials caused by artificial visual fatigue, so as to ensure product quality consistency;
The material positioning is more accurate and more efficient: improve the assembly precision, ensure the yield once assembled, improve the efficiency of;
2, the introduction of identity traceability function, automatic inspection of the whole process of product, improve customer quality monitoring:
LED lighting products meet all automatic detection, and according to the customer demand to realize the automatic detection parameters, screening;
LED lighting products all testing parameters and specifications, batch, factory date product information, automatically saved to the database, forming the corresponding bar code, can demarcate the identity of each product, convenient customer factory lighting products detection information retrieval, the identity tracing function;
3, the use of a large number of manipulator carrying materials, materials to achieve stable operation, fast speed, repetitive operation and high precision; reduce the maintenance cost, improve production efficiency.
4, using high precision linear guide rail vehicle industry plate chain conveyor, compared with high precision, low noise, low wear and long service life and convenient maintenance.
5, using high speed CPU, large capacity data storage, high-speed data link transmission, high sensitivity
Specification:
| | | | |
| --- | --- | --- | --- |
| No. | Item | Parameter | Remark |
| | | | |
| 1 | Size(L×W×H) | 14490mm×3120mm×2200mm | Can be customized |
| | | | |
| 2 | The number of robots | 2 | |
| | | | |
| 3 | production capacity | 1500pcs/hour | |
| | | | |
| 4 | Power Consumption | 5.5KW | |
| | | | |
| 5 | Electric Supply Required | 3phase 5wire,380V 50/60Hz | Can be customized |
| | | | |
| 6 | air consumption | 500L/min | |
| | | | |
| 7 | number of workers | 2~3workers | |
| | | | |
LED Bulb lamp parts
Part of the production line
The production line mainly comprises a frame, each station assembly and a feeding mechanism and automatic circuit and gas circuit.
1, Frame: assembly platform, tooling plate and circular safety cover. Feed mechanism
2,Each station of tooling
Led Aging line
Our Services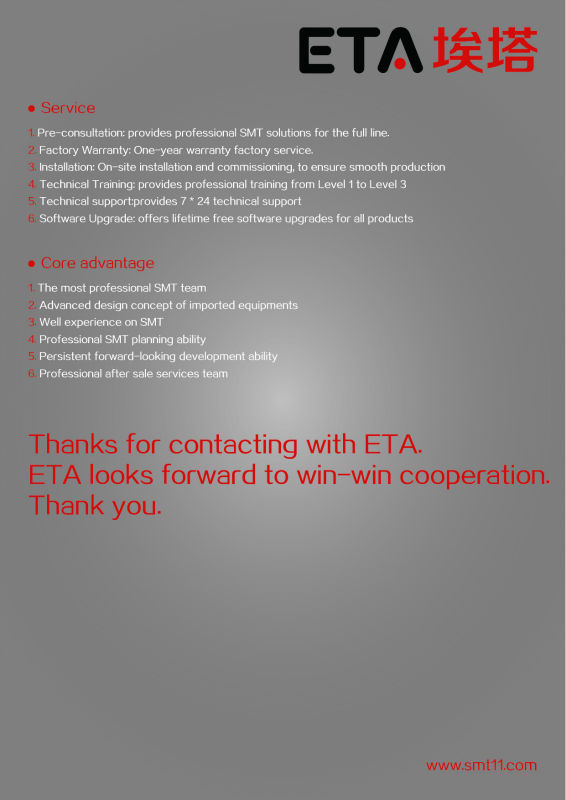 FAQ
After-sales service:
1.Pre-consultation: provides professional SMT solutions for the full line.
2.Factory Warranty: One-year warranty factory service.
3.Installation: On-site installation and commissioning, to ensure smooth production
4. Technical Training: provides professional training from Level 1 to Level 3
5.Technical support:provides 7 * 24 technical support
6.Software Upgrade: offers lifetime free software upgrades for all products