Product Description
SMT Feeder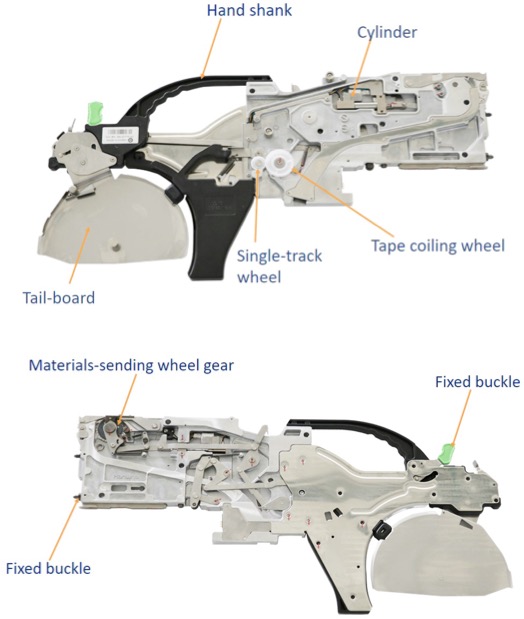 Samsung 8*2 Feeder Machine
FEEDER FOR JUKI/SAMSUNG/YAMAHA/FUJI SMT CHIP MOUNTER
YAMAHA FEEDER FSII8*2MM KJK-M1500-000
YAMAHA FEEDER FSII8*4MM KJK-M1500-011
YAMAHA FEEDER FT8*2MM KJK-M1500-010
YAMAHA FEEDER FT8*4 MM KJW-M1200-023
YAMAHA FEEDER FS2 8*4MM KJK-M1500-013
YAMAHA FEEDER SS 8MM KHJ-MC100-000
YAMAHA FEEDER SS12 MM KHJ-MC200-000
YAMAHA FEEDER SS16 MM KHJ-MC300-000
YAMAHA FEEDER SS 24MM KHJ-MC400-000
YAMAHA FEEDER SS32MM KHJ-MC500-00
JUKI/SAMSUNG/YAMAHA/FUJI MOUNTER Feeder Series
YAMAHA CL Feeder
Part No:
Yamaha CL 8*2mm Feeders for 0201
KW1-M1500-030
Yamaha CL 8*2mm Feeders for 0402
KW1-M1400-00X
Yamaha CL 8*4mm Feeders
KW1-M1100-000
Yamaha CL 12mm Feeders
KW1-M2200-300
Yamaha CL 16mm Feeders
KW1-M3200-10X
Yamaha CL 24mm Feeders
KW1-M4500-015
Yamaha CL 32mm Feeders
KW1-M5500-010
Yamaha CL 44mm Feeders
KW1-M6500-000
Yamaha CL 56mm Feeders
KW1-M7500-000
Yamaha CL 72mm Feeders
KW1-M8500-000

Company Information
Shenzhen ETA Technology Co., Ltd.Expert in making customized high quality SMT LED Pick and Place Machine, SMT LED Reflow Oven, SMT LED Stencil Printer, SMT Production Line,LED Assembly Line, SMT LED Machines with more than 23 years experience!
Our goal is to provide customers with the best service possible and to produce excellent quality products that will meet or exceed your expectations.
Successful Experience:
Eta's customer in 35 countries around the world
1. We have been helping customers to build a lot of new factories around the world.
2. Training more than 500 experts and technician for customers.
3. Became the most reliable Chinese partner for you.

For SMT factory setup,we can do for you:
1. We provide fulL SMT solution for you
2. We provide core technology with our equipments
3. We provide the most professional tech service
4. We have wealthy experience on SMT factory setup
5. We can solve any question about SMT
FAQ
Q: What we can do for you?
A: Total SMT Machines and Solution, professional Technical Support and Service.
Q:Are you a trade company or a manufacturer?
A: OEM & ODM service are available.

Q: What is your delivery date?
A: The delivery date is about 35 days after receipt of payment.

Q: What is your payment terms?
A: 30% deposit in advance and 70% balance before shipment.

Q: What your main customers?
A: Huawei,Foxconn,Vtech,Sumida,Kemet,Vishay,Bosch,Canon.

Q: Why choose us?
A: Leading SMT Supplier in China; Trade assurance to USD 560,000+; Professional after-sales service team.
Contact infomation
Contact Infomation:
If you could not find any similar items you want, you may send some photos to us.
Because our catalog and website haven't included all of our products.
Shanny True