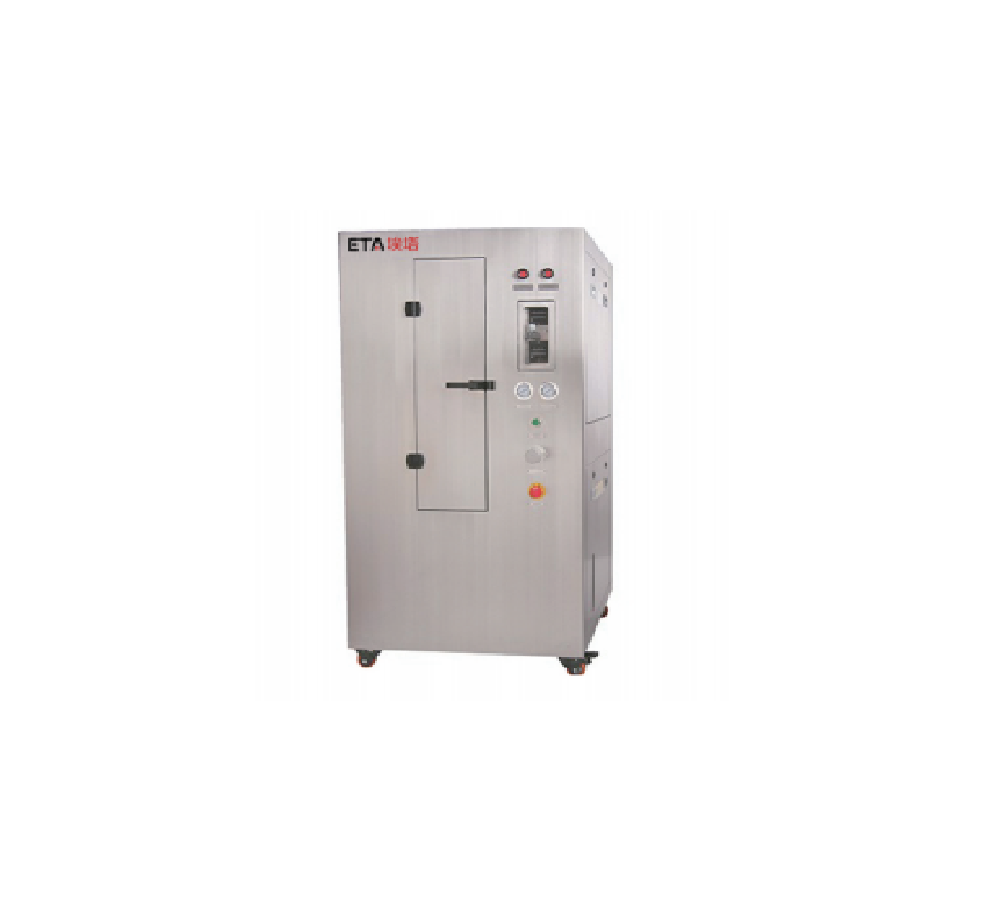 SMT Pneumatic Stencil Cleaning Machine ETA-750
SMT Pneumatic Stencil Cleaning Machine ETA-750
ETA-750 is a pneumatic stencil cleaning machine which used to clean SMT solder paste or red glue printing stencil. Famous pneumatic parts, strictly produce process, patented rotation spray rods guarantee you a high quality stencil cleaning machine. Both solvent and aqueous detergent can be use in ETA-750. Cleaning result is the same—100% clean.

PCB Mis Print Cleaning Machine
SMT Auto Aqueous Stencil Cleaning Machine

SMT Nozzle Cleaning Machine
SMT Fixture Cleaning Machine
Why Choose Us:
ETA is the leading SMT factory solution provider in China, offering professional SMT factory building advice and service.
We have 22 years experience about SMT factories, offering full solution for global clients with our advantaged sources in China. Our core technology team members are all from Foxconn, Huawei, Siemens and other companies. We not only provide a full set of equipment, we also provide full SMT technical support and services.

Main Products: SMT LED Pick and Place Machine, SMT LED Reflow Oven, SMT LED Stencil Printer, SMT Production Line, LED Assembly Line, SMT LED Machine, etc.

Successful Experience:
ETA's customers in 35 countries around the world.
※ We have been helping customers to build a lot of new factories around the world.
※ Training more than 500 experts and technicians for customers.
※ Became the most reliable Chinese partner for you.

ETA Engineers installed in Vietnam

ETA Engineers installed in Russia
ETA Engineers installed in Iran


Customers Visited Our Factory
Packing Method:
※ Standard wooden package

Shipping Ways:
※ By air , for sample and small package,international express
like DHL, UPS, EMS...
※ By sea , for large package and quantity;
※ Other ways as customer requested.

Delivery Time:
※ 35 Days
■ Pre-Consultation: provides professional SMT solutions for the full line.

■ Factory Warranty: One-year warranty factory service.

■ Installation: On-site installation and commissioning , to ensure smooth production.

■ Technical Training: provides professional training from Level 1 to Level 3.

■ Technical Support: provides 7 * 24 technical support .

■ Software Upgrade: offers lifetime free software upgrades for all products.
1. Are you a trade company or a manufacturer?
→ OEM & ODM service are available.

2. What is your delivery date?
→ The delivery date is about 35 days after receipt of payment.

3. What are your payment terms?
→ 30% deposit in advance and 70% balance before shipment.

4. Your main customers?
→ Huawei, Foxconn, Vtech, Sumida, Kemet, Vishay, Bosch, Canon.

SMT Pneumatic Stencil Cleaning Machine ETA-750

SMT Pneumatic Stencil Cleaning Machine ETA-750

SMT Pneumatic Stencil Cleaning Machine ETA-750

Page search keywords:
SMT Pneumatic Stencil Cleaning Machine ETA-750, View stencil cleaning machine, ETA Product Details from Shenzhen ETA Electronic Equipment Co., Ltd.
,By ETA SMT Machine Manufacturing,WaweisIt mainly produces:
SMT Pick and Place Machine
,
SMT Machine
,
SMT
.