reflow oven controller/Lead Free Reflow Oven for Low Cost
Product Description:
Main product : reflow oven, smt reflow oven, reflow solder, reflow soldering,smt mounter,Smt Pick and Place Machine,Smt Placement Machine,Smt Mounting Machine, Pcb Machine,Smt Equipments
Shenzhen Jaguar Automation Equipment Co.,Ltd is one of the leaders in SMT machine in China.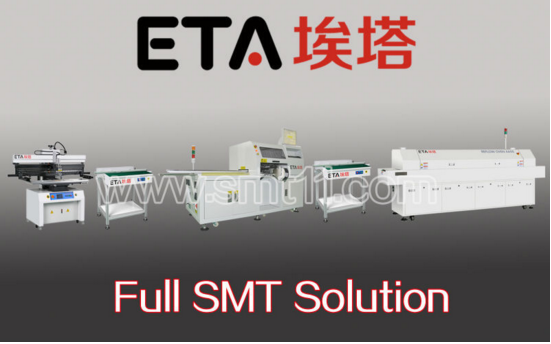 What we can do for you if you want to set up a SMT factory?
1. we can provide full SMT solution.
2. we can provode you with top technical support.
3. we have enrich experience on SMT factory set up.
4.we can provide the best professional tech service.
5.we can help you to deal with all the trouble about SMT.
Features:
1. Heating system adopts Lead smt Patent Heating technology.
2. Hot air no-contact output supported by imported large current solid-state relay, safe and reliable, meanwhile equipped with special SSR radiator, greatly improve the cooling efficiency, enjoy loner lifetime of the machine.
3. Heating devices used high quality components; ensure the whole system goes smoothly.
4. Combined with temperature controller PID fuzzy control function, has been monitoring the change of the ambient temperature and heat value ,with the minimum pulse control heating device , fast response, guarantee the temperature control precision ,minimize temperature distribution differences inside the oven ,the length direction of the temperature distribution accords to IPC STANDARDS .
5. Heating zone Module design, convenient for maintenance.
6. Sound and Light alarm when the temperature beyond the limit, with error analysis functions.
7. With small hot air cycle system design, up and down heating, good thermal compersation, perfect hot source efficiency, warm-up fast, suitable for BGA, CSP and 0201 ect, components solder welding .Unique forced hot air cycle structure, make components on PCB heated evenly.
8. Winding system adopts advanced wind air channel, working uniformly, with high hot source exchange.
9. Pre-heating zone, welding zone, cooling zone, cooling zone, up and down heating separately, independent cycle and temperature control, adjacent/beside zone temperature difference maximum value can reach 100 °C .No temperature exchange between zones, each zone temperature and wind speed can be adjusted.
10.Imported high temperature resistant motor straightly drive the hot air recycle, good heating balance, run smoothly, long lifetime, low noise, shock less .
11. Zones power match properly, warm-up fast, from room temperature to working temperature need 20 minutes, with hot source compensation function
12. Independent cooling zone, ensure the low temperature when PCB come out.
13. Transmission system adopts Japanese Frequency Motor, combined with 1:150 imported turbine reducer, running stably, the speed of 0-1500mm/min is adjustable.
14. Standing supported by independent wheels, with special stainless steel mesh belt, durable wearing resistant, especially for BGA, CSP and 0201 welding.
15.Rail + mesh belt transmission optional.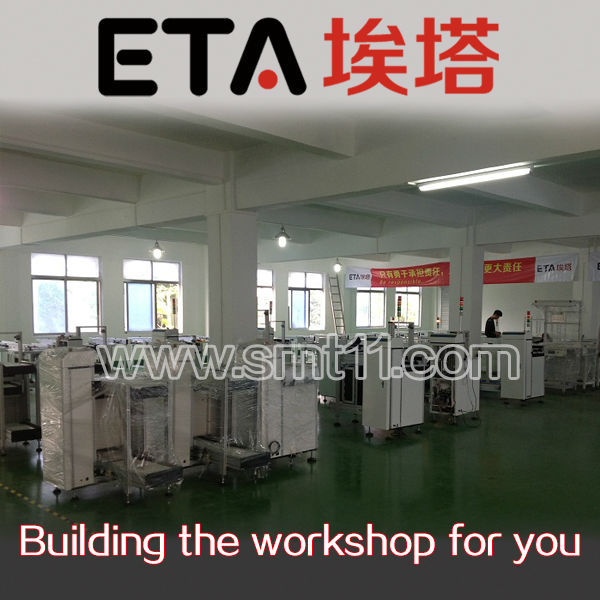 ETA is the leading SMT factory solution provider in China,offering professional SMT factory building advice and service.We have 20 year experience about SMT factories,offering full solutions for global clients with our great advantaged sources.Our core technology team members are well experienced in SMT filed, learning experience from top international chip mounters meanwhile increasing independent research and development. Currently ETA SMT equipment is representative of high quality , has maintained absolute leading technology in the industry.
Over the years the company has been committed to improving technology, quality and perfect service. ETA makes a positive contribution to international standard,the annual total capacity of 1200 sets, passed the ISO9001: 2000, ISO14000, CE, UL, RoHS and other certifications. Full implementation of the IPD process, reliable design and testing throughout the entire product life cycle.ETA's continued investment in research and development and great contribution has been unanimously recognized in the field. By the end of 2012, ETA has declared more than 30 patents and software copyrights (including four invention patents), and actively involved in a number of national and industry standards. ETA provides more advanced products and fast technical support for global customers, at home and abroad.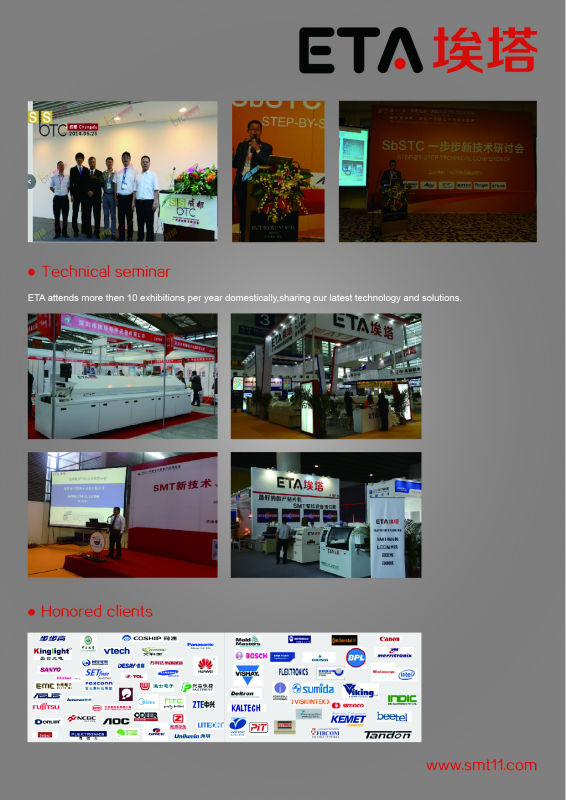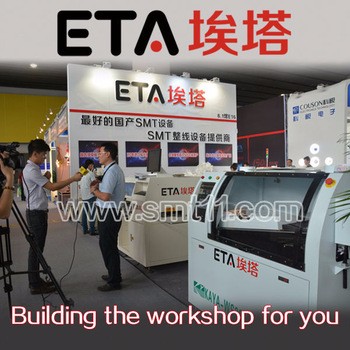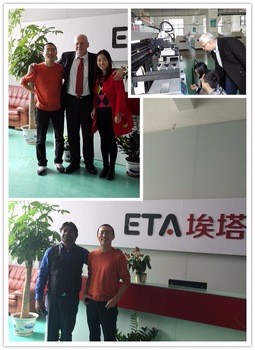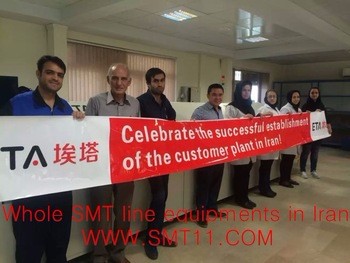 Single item
3600X960X1450 cm
780.0 KG
WOODEN CASE