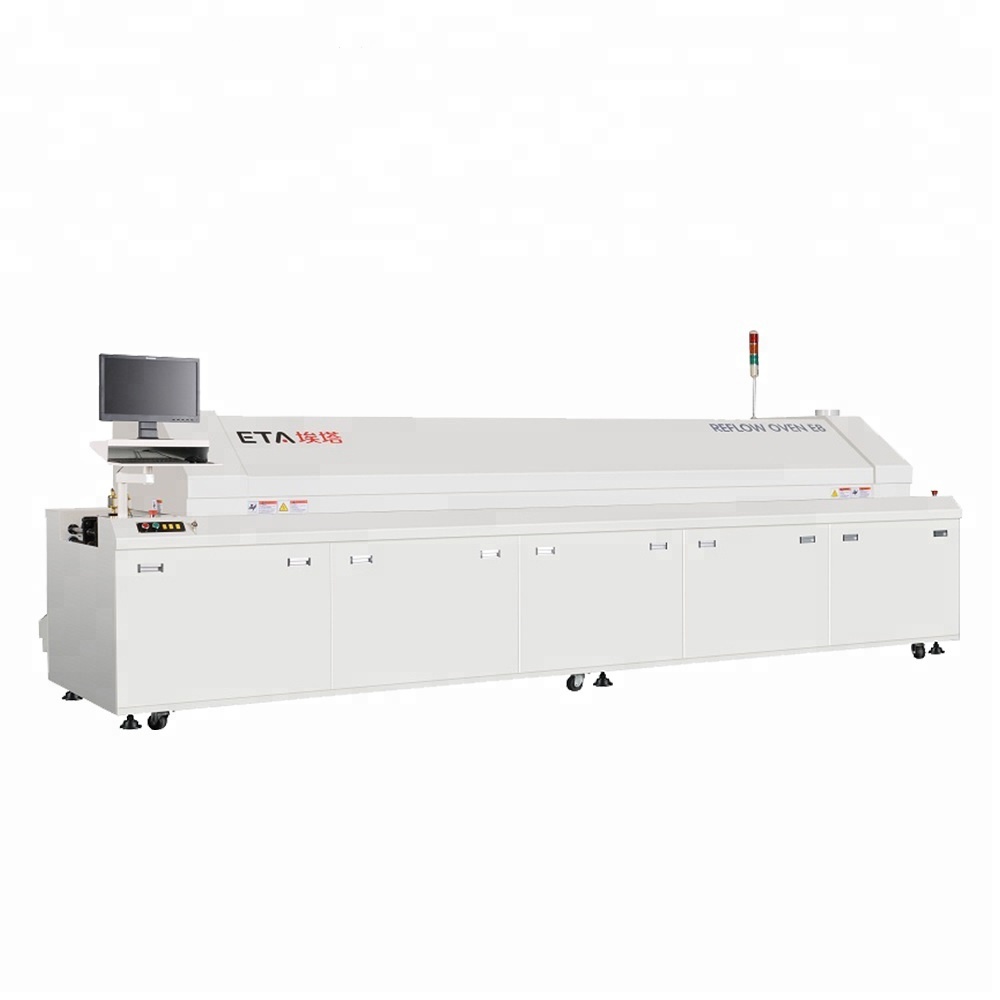 Low Cost SMT Line Lead Free Reflow Oven for PCB Soldering Assembly
Low Cost SMT Line Lead Free Reflow Oven for PCB Soldering Assembly

Product Usage :
Soldering LED CHIPS , IC components , SMT / SMD components on the PCB boards

Heating Zones
1. Good at soldering CSP, BGA, 0201CHIP and so on
2. 16 heating zones & 2 cooling zones
2.1. Soldering temperature of each heating zone is independent control and adjustable
2.2. Up and bottom hot air heating ensures the uniform soldering temperature and solve the dead angle problem
3. Less than 20 minutes pre-heating time
4. Optimum design of muti-layer heat insulation
4.1 reduce the heat loss
4.2 decrease the fuel consumption
4.3 save the cost and improve the heating efficiency

Control System
1.Computer Control & Emergency Manual Control

2.Windows Operation Interface with English and Chinese Language

3.PC + PLC Full Automatic Control, stable and accurate

Transporting system
1. Transmission Mode of PCB :
1.1. VSVF (Stepless Variable-Speed Variable-Frequency)
1.2. Synchronized Mesh belt and Chain Rails
1.3. Excellent Stability
2. The Chain Rails :
2.1. Special quality aluminum made
2.2. Automatic refueling system
2.3. Accuracy of the rail width adjustment
2.4. Long service life

Temperature Monitoring System

1. Whole - process monitoring
1.1 Monitor the PCB temperature during the whole soldering period
2. Real time monitoring
2.1 The changing temperature in every second can be noticed , collected and generated a data curve
3. Intelligent monitoring
3.1 PID temperature control system can automatically keep the temperature curve goes like the one you set
3.2 The temperature curve of the soldering are stored in the computer for whenever you use it

SMT Pick and Place Machine
LED Assembly Production Line
DIP Wave Soldering Machine
SMT Upscale Inspection Conveyor
SMT Automatic Vacuum Loader
ETA is the leading SMT factory solution provider in China ,offering professional SMT factory building advice and service.We have 22 years experience about SMT factories,offering full solution for global clients with our advantaged sources in China. Our core technology team members are all from Foxconn,Huawei,Siemens and other companies,we not only provide a full set of equipments,we also provide full smt technical support and services,Besides we give customers more reasonable and professional suggestions.We have already helped many customers to establish factories in LED, TV, Phone, DVB, EMS and other filed around the world ,we are worthy of trust!

Main Products:SMT LED Pick and Place Machine,SMT LED Reflow Oven,SMT LED Stencil Printer,SMT Production Line,LED Assembly Line,SMT LED Machine.

Successful Experience:
1.We have been helping customers to build a lot of new factories around the world.
2.Training more than 500 experts and technician for customers.
3.Became the most reliable Chinese partner for you.

■ Pre-Consultation: provides professional SMT solutions for the full line.

■ Factory Warranty: One-year warranty factory service.

■ Installation: On-site installation and commissioning, to ensure smooth production.

■ Technical Training: provides professional training from Level 1 to Level 3.

■ Technical Support: provides 7 * 24 technical support.

■ Software Upgrade: offers lifetime free software upgrades for all products

Packing Method:
※ Standard wooden package

Shipping Way:
※ By air, for sample and small package,international express like DHL, UPS, EMS...
※ By sea, for large package and quantity;

※ Other ways as customer requested.

Delivery Time:
※ 35 Days

Page search keywords:
Low Cost SMT Line Lead Free Reflow Oven for PCB Soldering Assembly, View Reflow Oven Soldering Machine, ETA, ETA Product Details from Shenzhen ETA Electronic Equipment Co., Ltd.
,By ETA SMT Machine Manufacturing,WaweisIt mainly produces:
SMT Pick and Place Machine
,
SMT Machine
,
SMT
.